[tx_button style="default" text="Integrated studies (I+II)" url="http://sf.unsa.ba/en/6050-2/" color="#dd3333″ textcolor="#ffffff" target="self"][tx_button style="default" text="PhD programme (III)" url="http://sf.unsa.ba/en/studies-and-programs/7330-2/" color="#dd3333″ textcolor="#ffffff" target="self"][tx_button style="default" text="Professional Dental Hygiene Study" url="http://sf.unsa.ba/en/studies-and-programs/professional-dental-hygiene-study/" color="#dd3333″ textcolor="#ffffff" target="self"][tx_button style="default" text="Postgraduate Specializations" url="http://sf.unsa.ba/en/specializations/" color="#dd3333″ textcolor="#ffffff" target="self"][tx_button style="default" text="Professional meetings" url="http://sf.unsa.ba/en/clinics/continuing-meeting-professional-meetings/" color="#dd3333″ textcolor="#ffffff" target="self"]
Doctoral Study – III cycle
[tx_row]
[tx_column size="2/3″]Doctoral study at the Faculty of Dentistry of Sarajevo University belongs to the scientific field of biomedicine and health.
Doctoral study lasts three years (six semesters) and with appropriate commitment and continuous effort enables evenly load of students. Doctoral study is evaluated by minimum 180 ECTS (for graduation and all the obligations imposed by a minimum of three years) and at least 60 ECTS per year (the work required to overcome one academic year is at least 60 ECTS).
The scientific degree doctor of dental sciences is acquired by a study program.
[/tx_column]
[tx_column size="1/3″]
The study program is realized through teaching, scientific research and the preparation and defense of the dissertation. The teaching process is done through lectures, seminars, consultations, guided practicums and other established forms of teaching. The curriculum consists of: study areas, compulsory modules (methodological subjects), other subjects, guided practicum and research. [/tx_column]
[/tx_row]
---
[tx_row][tx_column size="2/3″]
In the study may apply candidates from Bosnia and Herzegovina and abroad, under the same conditions, who are completed the Faculty of Dentistry.
Council for doctoral study can determine exam of certain subjects or parts of subjects (supplementary courses) of university integrated study of dentistry for candidates who did not fibish integrated study of dentistry.
Average rating on university integrated study should be at least 8 in the grading system from 5 to 10 and 3.5 in the grading system from 1 to 5.
Also, it is required knowledge of English language at the level that anables communication through speech and writing, reading scientific and educational literature, writing of scientific papers and use of computer programs.
[/tx_column]
[tx_column size="1/3″]Student service of the Faculty
Student Service is focused on the students and it is reflected in the following:
Giving information on study programs and study rules, Enrollment in the first and the following school years according to legal regulations, Issuing certificates and other documents, Contact with students, Implementation of ISSS, Procedures per customer requirements, Registration and records of students.
Telephone:
+387 33 226 663
+387 33 214 249 ext. 210
E-mail:
ssluzba@sf.unsa.ba[tx_divider size="5″]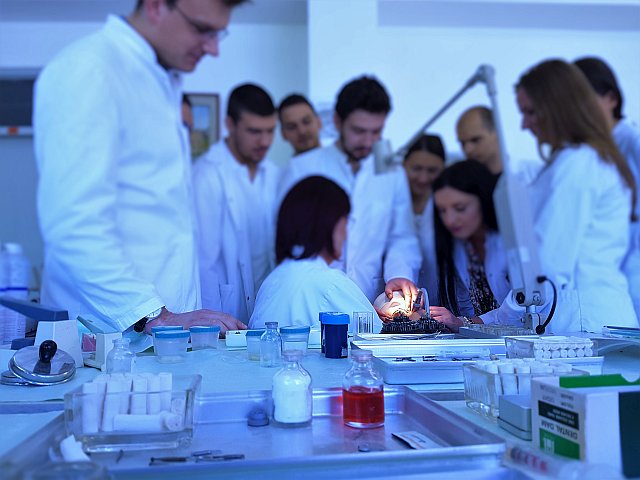 Informations for future students[/tx_column]
[/tx_row]